Create Tables for Your Emails—Within Gmail!
1-click download
Insert directly when composing a Gmail message!
Stop copying/pasting tables into your emails and messing up its format
Advanced formatting options: text, spacing, borders, headers, and color

Integrated into Gmail No extra software!

The first solution for creating formatted tables within Gmail!
Fully Integrated With Your Chrome Browser
Gmail Tables by cloudHQ installs immediately when you download it from the Google Chrome webstore. Once installed, start writing a new email by clicking on your "compose" button, and navigate to the bottom of your new email to find a new rectangle with three dots inside it (next to the Send button). Click it to be able to create a new table.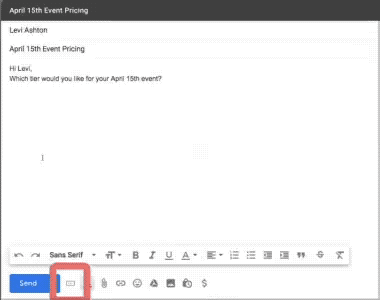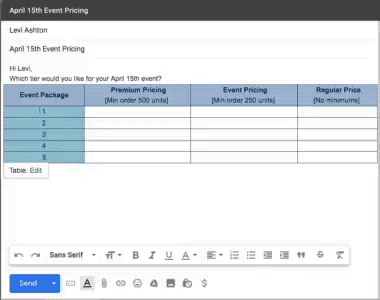 Tables—without the hassle!
Gmail has some amazing capabilities, but one thing it doesn't offer is a way to create and format tables in your emails—something which is easy in other apps like Google Sheets, Outlook, or (of course) Microsoft Word and Excel.

Now, Gmail Tables by cloudHQ allows you to create customized tables from within your Gmail composition box. No attachments! No copying from Microsoft Word or Excel—which can often lead to big formatting problems, anyway. Customize your tables from within your new message and send off that beautiful 9x12 matrix, just how you've always craved.
Formatting Options: Borders, Spacing, Color
You've gotten this far: now, what will your table look like?

Of course, specify the number of rows and columns. Then...maybe you need a header row, or a header column? Would you like to make them a certain color?

How about the spacing in the cells themselves? How wide, how tall?

Now, the borders. How thin, or how thick?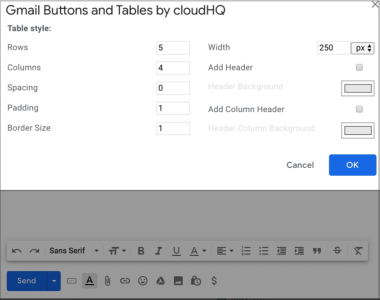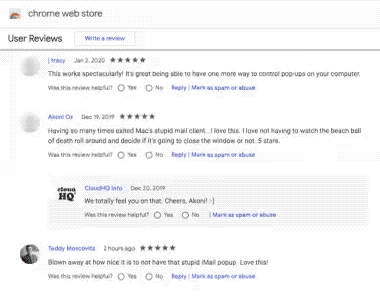 Near Universal 5-Star Ratings
Gmail Tables by cloudHQ has almost universal 5-star reviews from users who have downloaded it in Chrome.
---
Who Uses Gmail Tables by cloudHQ?
Sales Pros
Do you need a way to organize a price list in your next email blast? Give Gmail Tables a try: you can quickly create clean, carefully formatted tables to send your clientele. They'll thank you for the clarity!


Event Planners
The next time you want to send a timetable, look no further than your email box itself. Why try to create something in another app and paste it in—and risk losing your finely done formatting? Just create a simple table within Gmail and you're good to go.
Customer Support Specialists
Do you need to write up some troubleshooting instructions for a customer? Make it easy on them—and on yourself. A table would be perfect here!


Managers and Team Leaders
Want to acknowledge a team member (or multiple members) for their great performance? Use a table to display their metrics in an email to your team. Easy to read, easy to make: creating a table from within your email is a no-frills option for presenting this kind of data.